Sports car companies have a market subtle enough to drown the sales or skyrocket them. With a lot of expenditure on making Supercars, companies also have to take care with the BRAND IMAGING. But no one handles this as superior as Ferrari. The best example to quote this is the worth Fiat lost when it split with Ferrari. Almost an enigma, the story of Ferrari, has lot many key changes in approach and product releases, which are a part of the irrevocable beauty Ferrari stands for.
Well, a very comprehensive glimpse through the market history of the company hints you to the number of exclusive releases for a platform like that of 599, F430, 458, California and many more. Ferrari outshines by achieving £552m in revenues with exports of just over 7200 units, which have a value much higher than Masseratis', which in reality, exports about 36000 cars annually!
This not only aids Ferrari to invest in Motorsports activities, but also helps gain revenue out of licensing. But the crux of this massive brand remains at the POWER OF THE WHEELS. And Ferrari is in no mood to add electric cars, which reassures us about its approach to move on with the exclusivity, the company stands for. The recent Berlenitas, Aperta and Speciale models on the FF and 458 Italia have the most captivating rides possible. Let's have a brief view over the models that are exclusive on rides but are even captivating on sights!
F430 Spider
Source: https://www.uhdwallpapers.org
Horses menacing around your street can be an issue, but the feeling when 490 horses prance together under a convertible body, is one in a lifetime.
One of the key launches of 2005, Ferrari added history to the F430 lineup with this. As you race the car, the design lines get converted into streamlines cementing the ground clearance with the car, and in case you miss the opportunity to feel the air, put your roof down and surge in the Heartbeat reassures the speed. You get a launch control for the V8, which means idling is at 5000 rpm, and with shifts close to 60 milliseconds, the mind just goes bonkers! And just in case you are expecting more shifts to RACE mode, Ferrari F430 Spider leaves you spellbound!
458 Speciale
Source: https://wallpapercave.com
A perfect successor for a car is what a company craves for, and a successor for 430 is a massive responsibility. But since the launch in 2011, it has awakened the Ferrari lovers of what it is really capable of. Well, Ferrari on rolling out the Speciale, have worked out all possible measures not only to make it look good on paper, but even on tracks. Shedding about 90 kilos and adding frugal tech to improve stability evolved the machine into one of the Iconic handling cars.
458 Aperta
Source: https://gtspirit.com
Well, a mere facelift with little bit more power and higher price is what the first impression goes. A general mistake! This "Car of the Year" winner has got a host of new features to boast about, thus making it completely different from the existing 458 Speciale.
This is the first car to have even the front diffusers changing orientation for the air to pass smoothly to make you reach faster! Only 499 convertibles have been built, as it is a track-focused car that reaches 9000 rpm faster than on an F458 reaching 5000 rpm!
F12 Berlenita
Source: https://www.seriouswheels.com
An upgrade on the 599 platform, Ferrari has managed to fit in the best possible chassis, handling and Gearbox to a V12, which according to many, is the best ever naturally aspirated engine.
The active aerodynamics on the front with lots of laminar flows around the car has been as challenging as designing an F1 car. Gear shifts are a whole lot quicker than 599 leaving an everlasting happiness for GT lovers!
F12 TDF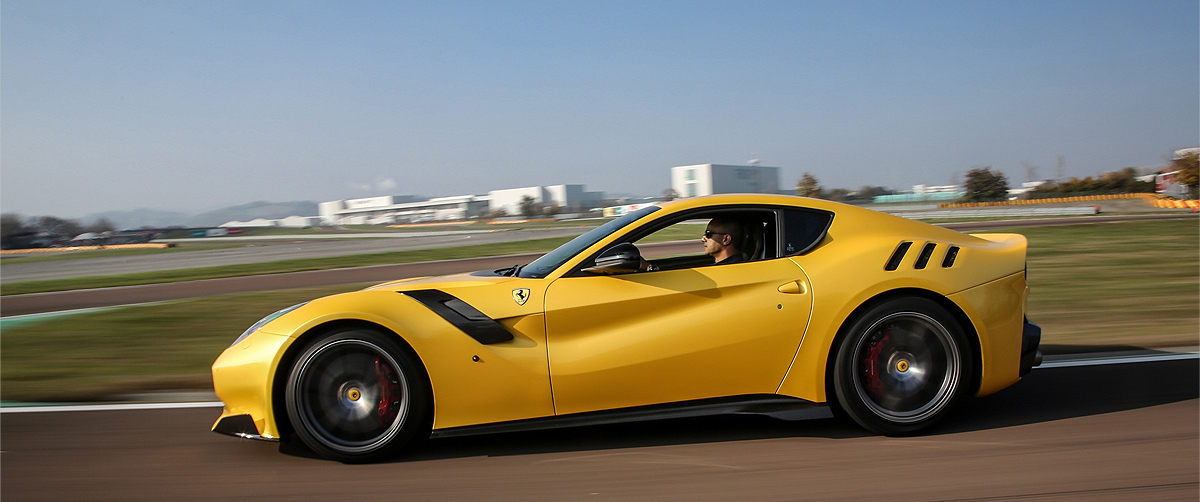 Source: https://www.aegrh.com
TDF or the Tour de France version of the F12 platform is a bit of a HYPERCAR surpassing the GT tag. It has the most powerful naturally aspirated engine from Ferrari, which is argued to be the last one as the GTB version of the 488 was released with turbochargers.
According to Matt Prior, the Chief Editor of Autocar, "TDF version of the F12 takes some patience to handle, because handling 768bhp of power with lower gear reductions means faster revving and whole lot of faster power delivery. This car has to be tamed and then enjoyed, a very different machine indeed!"
There might be many track-based cars launched every year with lots of high-tech used to make it sharper and agile, but the phenomenal cruising ability at lower RPMs delights every driver. And with such technology at hand, it is INEVITABLE for every auto enthusiast to look forward at every new launch. This year too, Ferrari is expected to come up with new versions on the 488 platform but what about India? That is something that Delhi Auto Expo 16 will answer! Stay tuned!