"I am like a Rolls-Royce, which can run without an engine, just on reputation." Shahrukh Khan
King Khan is known for his witty remarks and this quote by him is sufficient enough to define Rolls-Royce for the unversed.
source - allautoexperts
The flying lady or what we call it – Spirit of Ecstasy – placed beautifully in silver on the bonnet of every Rolls-Royce makes its own way on the road by blowing a trumpet for the arrival of the royal chariot. We all must have fancied Rolls-Royce in our dreams as owning one is not that easy. Oh! You must be aware how Rolls-Royce has put down the application by many bigwigs for buying its babies (including Mallika Sherawat too). Well, there are many awe-inspiring stories and facts about RR that you haven't heard of, but here we are not going to aware you of any such thing.
source - i.ytimg
The royal chariot has now become more royal with its new lady whose beauty cannot be defined by words but can simply be absorbed through naked eyes. Let's have a look at the mesmerizing beauty:
Dumbstruck are you? Undoubtedly the all new Rolls-Royce Sweptail has all that swag to take your breath away. And do you know the price of this enticing beauty? Make a guess! It's $12.8 MILLION, which roughly comes to Rs. 83 crore!!! (I am about to get fainted)
source - bmwblog
Yes, you read that right and with this, Rolls-Royce Sweptail becomes the most expensive new car of the world. Of course, it hasn't beat the price for which Ferrari 250 GTO was sold – $38 million – but now it has left Bugatti Chiron far behind in terms of expensivity.
source - .designboom
Well, another sad piece of news is that this one-off custom build the costliest car is not for sale, so even if your bank account could manage to shred off that hefty amount you can't buy Sweptail.
Story of Birth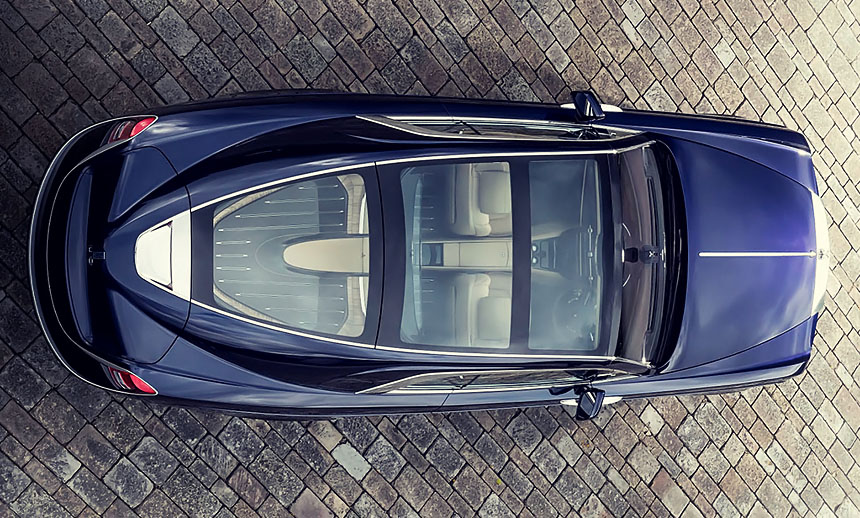 source - drivearabia
Sweptail marks the return of brand's time-honored and highly acclaimed coach-building business. In the year 2013, when an ardent Rolls-Royce fan didn't find his love affair in that time available inventory of the brand, he asked the British carmaker to design a two-seater extravagant of his choice which should be the amalgamation of classic 1920s Rolls-Royce time-honored coaches.
source - Pinterest
The name 'Sweptail' has been derived from the 1920s Swept-tail Rolls-Royces. Apart from that, the front of the new Sweptail resembles the 1925 Phantom I Round Door.
You will also find traces of the 1934 Rolls-Royce Phantom II Streamline along with the Gurney Nutting Phantom II Two-Door Light Saloon.
The designers at Rolls-Royce took almost 4 years to build this piece of marvel and perfection. Let's check out how it is made:
And we all know the result! The company put its costliest baby on show at the Concorso d'Eleganza at Villa d'Este on 27th May 2017. The company declined to provide any information of the special owner of the Rolls-Royce Sweptail but it added more to the suspense by describing that lucky client as, "connoisseur and collector of distinctive, one-off items including super-yachts and private aircraft."
Giles Taylor, Rolls-Royce Motor Cars Design Director, further gives insight about the company's tailor-made luxury drive, "Sweptail is the automotive equivalent of haute couture. It is a Rolls-Royce designed and hand-tailored to fit a specific customer." He also added, "This customer came to the House of Rolls-Royce with an idea, shared in the creative process where we advised him on his cloth, and then we tailored that cloth to him. You might say we cut the cloth for the suit of clothes that he will be judged by."
Design
source - static.dezeen
The designers have made the front grille of aluminium, which has been given a hand polish for a mirror finish, and to give an elegant look the roofline has been made gently sloping.
The milled and polished 08 numberplate is the outcome from the ingots of aluminium.
Just step inside and you will feel that you are the richest person on earth. Loaded with switches and buttons hidden behind the Macassar Ebony and Paldao woods, this royal coupe, inspired from a yacht, has a glass roof to let the passengers enjoy the scenic view of nature above and the perfect combination of light and dark leathers is simply a treat to an eye.
Though the company hasn't unveiled the full set of features that the special owner would be able to enjoy, Sweptail is said to have a two customized panniers hidden in the boot that came out smoothly with the push of a button to accommodate the laptop cases
Well, this is not it! As with another push of a button the owner will be treated with his favorite vintage champagne, which will be followed by two glasses of crystal.
Specifications
As far as the specs of the Sweptail are concerned, the BMW-owned British marque has been tight-lipped since the day the luxury yacht-inspired coupe has been put on display for the public. But according to experts, Rolls-Royce Sweptail is expected to be based on the platform of the current generation Phantom and is supposed to be powered by a V12 6.7-litre engine with 453BHP of max power. Despite being a coupe, for a touch of luxury, the two-seater coupe has been stretched to over 6 meters.
source - businessinsider
What you have to say about this distinctive and ostentatious piece of excellence crafted with love by the designers at Rolls-Royce?