Among many other names in history, Pablo Escobar is one name that you simply cannot afford to not know. For those of you who haven't heard about him before, Pablo Escobar was the son of a humble farmer, who eventually rose to become one of the most powerful men in the world by running the biggest cocaine businesses ever. In fact, he was listed by Forbes as one of the richest men in the world, seven times in a row, starting from 1987, worth in his peak over 9 billion dollars. If you don't know how much that means, here's a little fact: The collective GDP of Iceland and Africa put together couldn't beat that amount!
It is no mystery the drug lord had massive wealth. And, by massive we mean, during the peak of his career, Escobar was losing more than 2 Billion a year because of rats eating it away in the storage. Ever thought how it would feel like to have so much money that you can lose 2.1 billion dollars a year and not care? We cannot.
But did you know that besides being a drug lord, a merciless criminal, Pablo was also a car fanatic? A life surrounded by multiple villas, women, cash, guns, and of course, cars. Let's find out about his fascination with cars:
1. Pablo owned almost everything you can think of… including a stunning collection of cars:
source - allautoexperts
Apart from owning a number of hover crafts, submarines and Private jets, he had a car collection to fall for. His choice in cars resonated a man who had risen from slums to be a drug lord whose wealth knew no bounds. He liked a $500,000 Mercedes 300SL roadster as much as he liked the classic Renault 4L. He was the proud owner of a Mercedes 300 SL, a Porsche 356, a Mercedes 600 limo, a dozen of Toyota Land cruisers and several 20's & 30's vintage American Phaetons. Oh, and not to forget a number of bikes! It's said that Escobar's choice was not ordinary (just like him!). He did not go for the usual Lambos or Ferraris that probably every rich man would. Instead, he would buy any supercar that would strike his fancy.
2. Pablo, the Racing Hero?
source - blogspot
Before Pablo became the unbeatable drug lord, do you know what is it that he was famous for? What was it that made the press catch attention before he became filthy rich? Pablo was a competitor in the popular Copa Renault 4. The "Renault" in Columbia, at the time almost as good as the national symbol and still remains to be so till date.
As his natural tendency to compete and lead was higher than anything else. So he decided to enter the Copa Renault 4 championship in Bogota and earned quite a lot of praise for his racing skills.
3. Before becoming the Drug Lord, Pablo Sold Stolen Cars:
Even though Pablo started off very small, he always had big dreams. Call it the love for cars or anything else, but before Pablo Escobar got into the business of smuggling cocaine, he used to steal old cars and re-sell their parts. He also sold fake lottery tickets and scammed people. In fact, in the early years when his drug business was under covers, he passed himself off as a successful businessman who dealt in cars as well as bikes. Although this was partly true, his real wealth came in from sources that were entirely different.
4. He shot up his Cadillac to be like Capone.
source - alux
Not much is left from Pablo's car collection as most of his cars are left to rust. These burnt and charred cars have been put on display at his former estate to remind us of the violent past but also his eventual defeat. After all, he was responsible for the deaths of more than 4000 people, several kidnappings, bomb blasts and violence that shook the country for years to come.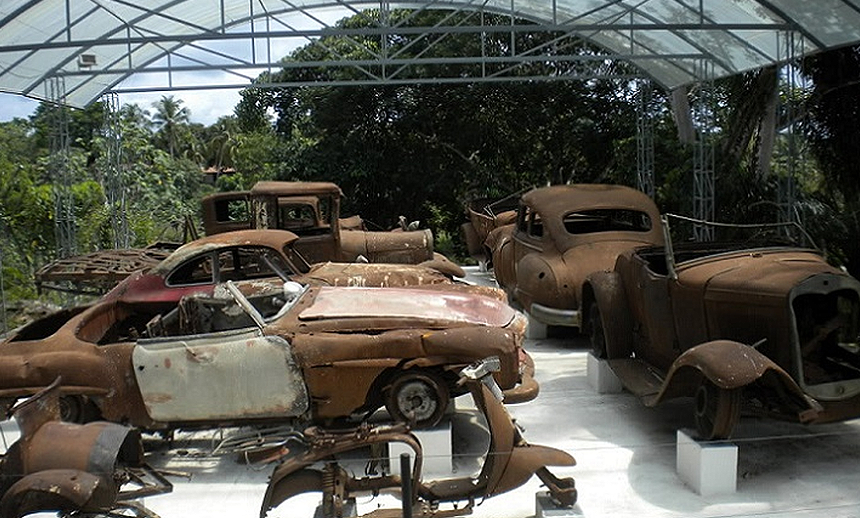 source - motor1