Talking about its engine, Porsche has legacy to produce faster than wind engines and Boxster too is not an exception. With mid-mounted engines offering low center of gravity, the car could hit 100 km/h in mere 5.8 seconds with a top speed limit of 272km/h.
Overall, Boxster is a car with Porsche's racing DNA for the adventures experience on the road while sitting in the luxurious upholstery meant for the utmost comfort. Its aesthetics too are none to second with its headlamps, single tailpipe chrome exhaust and exuberant tail-lights completing the looks.
Porsche Cayman
Source:https://d37nk263jfz2p8.cloudfront.net
Other Porsche car that has made people run to empty their pockets is Cayman. The two door coupe has done everything right in terms of power, looks, styles, design and interiors so that buyers go flat while taking it for test spin before finally purchasing one.
The car holds very same racing and fast paced genes of Porsche, which makes it accelerate unlike any other coupe in the Indian market. Hitting 264 km/h is also an achievement on the road and with the company's PDK system in action; Cayman betters the top speed by further 2 km/h.
The 2.7-Litre flat engine also generates enough torque and power to make the passengers thrill about their fast trip. Inside, Porsche has offered all-tech savvy cabin with all the features possible and yet has been able keep ample of space for required comfort.
Porsche 911
Source: https://www.revistadelmotor.es/
911 is one of the cars that are used to define history of Porsche. It's the iconic face and has played a vital role in establishing the company as a leader all around the globe. It is not just about how the car looks, but every part it's made up of has the feeling and sense for customer satisfaction and comfort.
The design itself speaks for 911 with classiest of curves, sleekest of roof lines and best of finish. Showing roots as well as the future of Porsche design theory, 911 never fails to tempt buyers because of its traditionally contemporary looks and aesthetics. The cabin too has been ergonomically designed to offer whatever comfort required while on the road.
When it comes to engine, Porsche has always made sure that its occupants are always on the edge yet safe while cruising ahead. Having two variants of same 3.0-litre 6-cylinder engine with further tweaks for different 911 models, the car fulfills the need of as much power as required quite swiftly.
Porsche Panamera
Source: https://autoindustry.ro/
While the company doing proudly well in sports car business, the top management thought to slightly deviate from Porsche to regular course and arrived with Panamera sedan. Ditching all the previous definitions of brand's car development aspects, Panamera was to lure the clients who have gone past of their fast driving age but are entitled to luxury.
Panamera is offered with all lavish features inside the cabin that include top-of-the-class leather upholstery, spacious cabin, fully stretched legroom, tech savvy controls and all other required amenities that should be the part of a luxury sedan. Despite being a heavy car, Panamera hits the road hard with 310hp of massive power and can go up to a top speed of 259km/h.
Meant to deliver comfort on longer journeys with no shortage of power, Porsche Panamera is surely a popular luxury sedan option to buy around the globe including India, where demand for luxury cars is growing each day.
Porsche Cayenne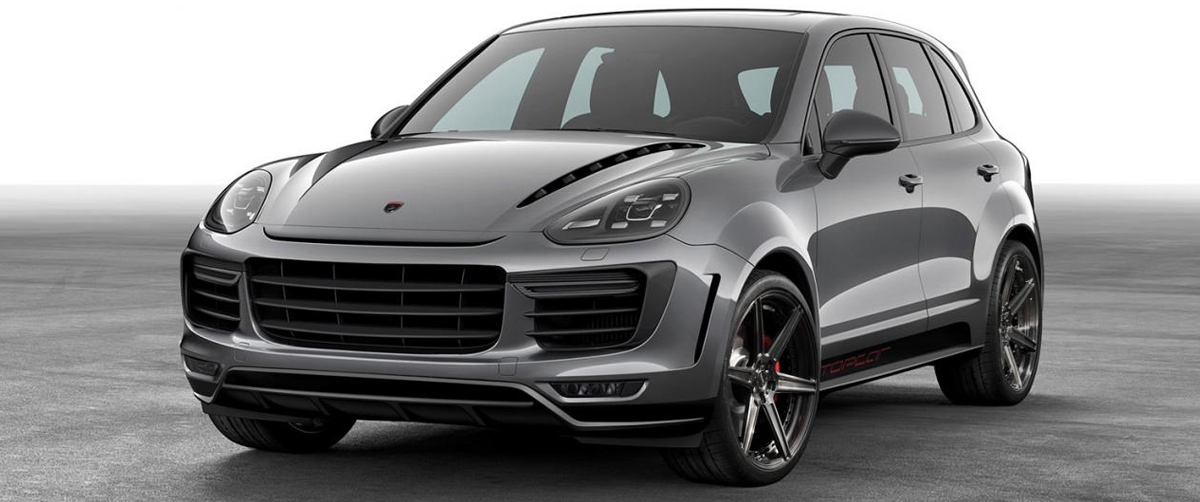 Source: https://gtspirit.com/
Last but not the least in Porsche India lineup is the mighty Cayenne compact crossover, which is famous for its off-road driving skills on any give terrain. Being compact in size gives much needed edge to Cayenne so that it could dodge with narrow mountain cuts and could steer through easily.
The off-road capabilities of Cayenne are handled by powerful 3.6-litre V6 engine generating 300hp of top power. Made popular in market as an off-road vehicle, Cayenne has 8-speed Tiptronic transmission system as standard across all variants. The design too went under renovation for Cayenne and what comes out was a unique model with fresher looks and reserved tradition.
Under the roof, there is a cabin that is packed with all modern day amenities to ensure that driver and rest occupants become the part of car and not just the load to be carried. Porsche has always focused on driver's pleasure along with comfort for passengers and Cayenne is doing every bit of that duty.
Conclusion
Overall, Porsche India is one of the richest companies in terms of covering the segment with the above mentioned models covering coupe, roadster, sedan and compact crossover arenas of luxury cars in the country. However, the company has not been able to penetrate the core, but is poised and striving hard to stay afloat among other players.