What does True Adventure mean in the motorcycling world? For some it means the thrill of riding all the way to an exotic location like Leh or Spiti. For some it means the kick of getting off the beaten track. For some it means the satisfaction of endless riding from dawn to dusk. For some it means the adrenaline rush of being on a large motorcycle. And for some it means the joy of being out with one's riding buddies away from the chores of daily life.
For me it's a little bit of all of these. All of us have important things and important people in our lives...but some of us are privileged enough to take a short break from that every now and then, get on a motorcycle to go to some random (or not so random) place.
A chance to be with people who have nothing to do with our everyday lives, but share our insane passion for motorcycling.
To listen to classic rock tunes of Floyd under the stars.
To eat our hearts out.
Or to burn it to the ground.
And most importantly to laugh our guts off. And if you can combine this with a truly great destination and route - then that is True Adventure for me.
source - petrenaandtheg
The Trip
source - motoroids
So 3 of us set of from Delhi to Udaipur, roughly 700 km away on our adventure bikes. There was the magnificent Triumph tiger 1200 explorer, the glorious Ducati Multistrada Pikes Peak and the newest addition to our stable - the mighty Africa Twin.
The main purpose of the ride was to be at the media test event of the Africa Twin launch at Udaipur. We were joined by 2 other esteemed owners of the new Africa Twin on their steeds.
We started from Gurgaon at 6 am in the morning. The skies were pregnant with rain and we were hoping the gods would allow us a few hours of "windy weather" riding. The gods obliged and we had a magnificent run of about 350 kms till Kishangarh. That's where the skies burst open and in a few minutes we were pelted with harsh rain. Such was the intensity of the rain that one would be hard pressed to imagine one was in Rajasthan. We soldiered along and rode through another 350 kms of intense rain to finally reach Udaipur by around 4 pm.
We then enjoyed Honda's hospitality which was magnificent. They had a fantastic evening planned with imminent media people and their leadership team along with new Africa Twin customers - a pretty unique mixture. We enjoyed a lazy Saturday walking around the beautiful city of Udaipur. The bike was serviced there - a wow moment !! And then we set back for Delhi on Sunday. I've not been to a lot of media events, so I don't have a benchmark but in absolute terms HMSI's organisation and hospitality was incredible. Hats off to Vikas Raheja and his brilliant team !!!
The ride back was equally exhilarating. We started around 6 am and were back in Delhi by 4 pm. There wasn't much rain so the weather was really nice. But the roads were in bad shape and there were a lot of stray cattle and motorists to keep us entertained.
So all in we did about 1400 km in 20 total and 16 riding hours. This itself is a testament to the Africa Twin's prowess in Indian conditions.
The Company
source - honda
Like I said earlier, for me the company is as important (if not more) than either the bike or the destination. I had my best riding buddy with me (we have ridden endless distances together and done a lot of crazy shit on bikes). I would never ride without him. And then we had one of our newer riding buddies with us who has endless energy (and a great classic rock collection, and can make great coffee, and has the craziest explorer ever). We also had 2 other Africa Twin customers and really enjoyed their company.
From endless banter over our Scalas, to endless cups of coffee, to endless classic rock sessions on our trusty Bose portable speaker, there is no more joy than hanging out with a few people you connect with over a biking trip. We roamed Udaipur like tourists, visited the quaint German bakery, had lunch at Ambrasia by the lake on a beautiful windy afternoon and were then back to our classic rock sessions and endless cups of coffee.
But this trip had another surprise for me. On Saturday evening I bumped into 2 motorcycle journalists I really admire in India - Shubrata Marmar (Shumi) and Karthikeyan Singhee. I've been following them for years and it was awesome to meet them and spend a few hours chatting with them about motorcycles - these guys are simply awesome!! The only other person on my top list is Sagar from PowerDrift and I hope to meet him soon.
The Bike
source - totalmotorcycle
To say that the Africa Twin was impressive during this, would not be an understatement.
The first thing you notice is its nimble size and lightweight character. Now this is not a light bike. It weighs 245 kgs fully filled. But it feels more like 150-175 kgs. Then its profile is so narrow that you have extreme confidence in lane splitting and getting off the road to beat traffic jams.
I recall that there was this one toll that had a truck infested traffic jam for at least 3 kms and it was raining hard. But we just gently moved on to the slush to the left of the road (2 feet wide at max) and cleared the whole thing in no time. You'd think 10 times before doing that on any heavy motorcycle. But on the Africa Twin it was a breeze.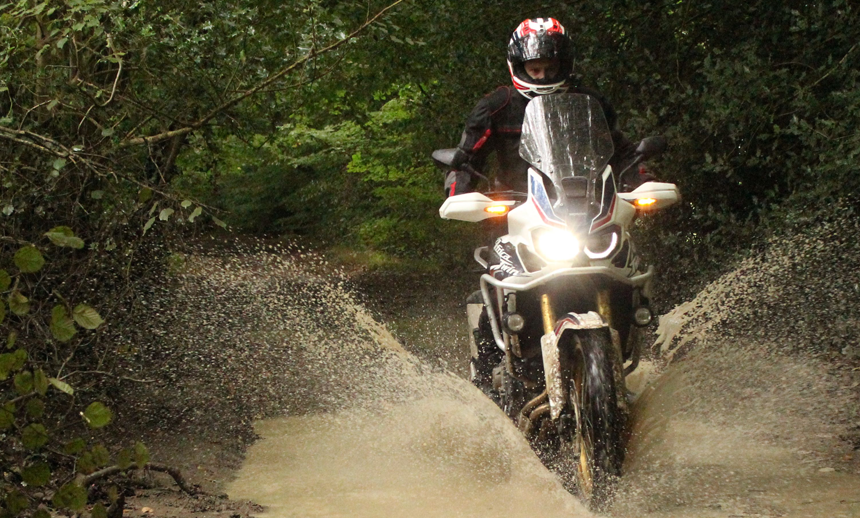 source - visordown
Related to this are the rider ergos. You sit very upright in a neutral position. The upright stance helps you see ahead quite a long bit and is great for planning overtaking maneuvers. The neutral stance keeps your body in extreme comfort. There is no pressure on your knees and wrists (while braking). Your back is very straight. And the fixed wind screen does an amazing job of keeping your head and neck out of any major wind, thereby preventing a stiff neck or aching shoulders.
source - doubleclutch
Now comes the trump card. Or maybe, call it the ace.
The DCT gearbox. Now I am an avid biker and and I can totally relate to the view that it's Harakiri to ride an automatic bike because you don't feel connected etc. I felt the same way for the first 200 km of owning this machine. But take this from someone who has ridden a lot of bikes for a lot of miles, the DCT is sheer genius and kudos to HMSI for bringing it to India. Once you get the hang of it, it completely takes gear shifting out of the equation and reduces rider fatigue (both mental and physical) by a huge amount. Imagine riding for 5-6 hours to reach your destination only to be stuck in bumper to bumper traffic with another 30-50 km to go. We all know what that does to our wrists, knees and mind. With the DCT that's completely gone. There are 5 gear shifting modes in all (D, S1-3 and full manual). There is also the option of installing a foot shifter that will act as a quickshifter and auto blipper in M mode. So for any kind of rider and riding….Honda has you covered.
source - visordown
The biggest surprise for me was how she handled in rain. While riding to Udaipur we faced incessant rain for about 350 km. And I was able to ride the bike as fast in the rain as I was in the dry. Now that is unusual. The tires gripped well. The engine and gearbox were super smooth and the suspension (though soft) gave a lot of riding confidence. I've never ridden a bike so hard in the rain as I was able to ride the Africa Twin.
source - endeavorsuite
Now I have not had a chance to ride her off-road (I'm not much into that) but judging from how good she is onroad in our riding conditions. I can only imagine how good she will be off-road given the whole engineering is off-road biased. This is the first bike I've owned that has egged me to try to learn to ride off-road. And I've promised myself to have a proper go at it.
All in this is a marvellous bike. Actually all bikes are marvellous if you asked me :)....but then some bikes have a distinctive identity and purpose - this is one of them. Usually that identity and purpose makes them fit only for a niche audience (track, MX, offroad). That's where the Africa Twin breaks new ground. Her appeal is very wide …..anyone who yearns for wanderlust and loves to be on a motorcycle in India can get on her and go for a True Adventure.
Many decades ago Honda (then Hero Honda) had a very catchy slogan for one of their most successful products - "Fill it, Shut it, Forget it"
The Africa Twin is sort of the same philosophy - "Go Anywhere, At Anytime, With Anyone". I think this is a great bike to have in India.
*****
The author is a complete 'Petroheadnerd' and bike junkie and we, at BigBoyToyz credit and thank him for this amazing diary entry of his experiences with the Africa Twin.
Insta: petroheadnerd
Email: rishab.gulshan@gmail.com