There is nothing in the world so irresistibly contagious as laughter and good humour and the person who endorses this aptly is none other than Kapil Sharma, the king of Indian comedy.
Born in a middle class family of Amritsar, he always had the conviction to make it big in life.
Choosing comedy as a lifetime career, he made his first appearance onscreen in a small time TV show known as Hasde Hasande Ravo before making it big in India's premier comedy show The Great Indian Laughter Challenge back in 2005, this being the major catalyst and boost to his name, fame and progress.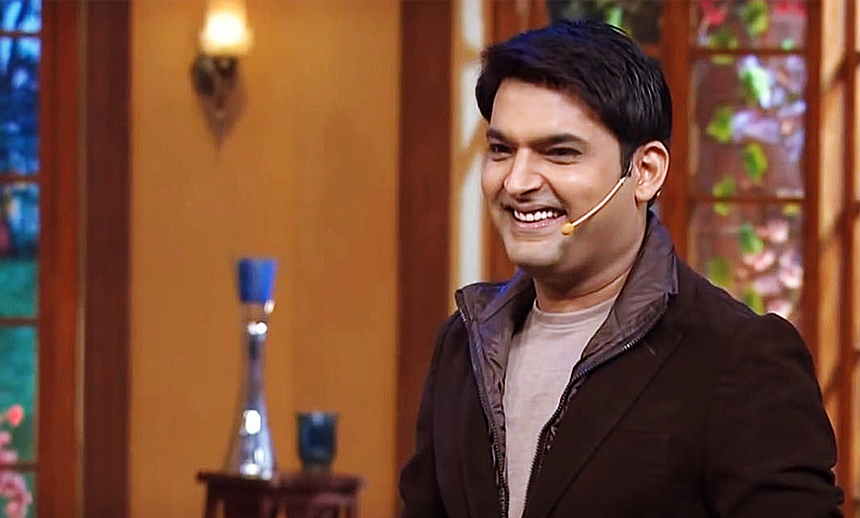 source - wallpaperes.altervista
Although there were many obstacles and roadblocks in his path and one being his rejection in the qualifying stages of this particular show only, but still he had the passion to carry on undeterred.
He made a whole hearted attempt once again and made it in the Delhi auditions and went on to win the competition.
From here on, there was no looking back. Participating in shows like Comedy Circus, Kaun Banega Crorepati and a short stint with Big Boss has made him a hit with the public of India.
source - crybytes
Venturing into his own production house K9, he launched his own show "Comedy Nights With Kapil" in 2013 which till date is a huge success and has high TRP ratings along with being a star studded show.
He was awarded the "Indian of the Year" award by CNN IBN for the Entertainment Category. It has almost been a decade since Kapil Sharma has made his debut in the TV industry and his success can be measured by the possession of two super luxury cars listed below:-
Range Rover Evoque
source - motorbeam
The legendary Range Rover brand from England fascinates and impresses with its timeless design, built quality and simplistic lines.
Some examples have even outlasted their owners thereby going down well in the history books and conveying the strong foothold of the Automotive Car Maker across the globe.
On first impressions the bigger variants such as the Sport and Vogue lend a subtle impression of dominance and authority out on the road with their immense size proportions and well chiseled body.
These models have won tremendous appreciation and respect amongst the elite class considering the time tested and faultless engine performance and the way they swivel you around the classic modern retro interior theme that one can't help but adore adore profusely.
source - motorbeam
Since ages, every model introduction by the British car maker has gone well with the admirers be it the boxy looks complemented by the world weary feeling and a slight deviation from the flamboyant and ostentatious appearance from the competitors.
But nevertheless, it is still a pick for the people who would like to convey their arrival in a different style and lend a supreme impression.
But as time progresses, innovation and advancement become the tools to draw inspiration from and choose the path towards novelty, uniqueness and freshness and thereby be pioneers of world class technology, mobility and sustainability.
Same was for Range Rover as the Research & Development team was generating and conceiving the idea to develop an environment conscious vehicle with a view to be more affordable.
source - motorbeam
The plan did work and finally in 2011, a rather sleek, elegant and exquisite SUV was born known as the Range Rover Evoque. This model departed from the retrospective styling from the olden days and became an instant hit with the young modern age buyers.
source - motorbeam
A stylish looker with the option of a 3 or 5 door catches people's attention out on streets.
This design language has a class of its own and is sure to melt hearts looking at that magnificent silhouette with the belt line originating meticulously and the coupe like roofline tapering a bit at the rear.
Despite having a length of only 4355 mm it doesn't look that small, courtesy it's dynamic and muscular stance.
source -motorbeam
The interiors have a rich taste and grandeur of their own with soft touch leather material and fine detailing on the dashboard.
One can surely engulf himself in the lap of luxury and appreciate the sheer craftsmanship, dedication and conviction of the British automotive workers in coming out with such an opulent interior theme.
The Evoque is powered by both petrol and diesel engines, the former being limited to the 3 door and catering to a limited set of clients.
The latter being the choice for many out there comes with the 5 door option and sports the latest generation SD4 2.2 litre diesel engine churing out 187 bhp of power and 420Nm of torque mated to a 6 speed automatic transmission. Performance is decent with 0-100 kmph timing of 9.5 seconds and top speed slated at 210 kmph.
The Terrain Response system fitted in this car makes it even more drool worthy and pick of the lot. This beauty excludes a solitary finesse of its own different from others going much in line with Kapil Sharma who adopts various techniques and practices to entertain the crowd.
Mercedes Benz S Class
Superiority and dominance reckons the flagship variant from the Stuttgart car manufacturer's stable as it re-establishes the benchmarks and rules with a new iteration every time.
Since the very beginning, the classic elegant design element with a lap of luxury has been fascinating one and all.
The plus point being that even after so many years, put your hand on any one of its generations and you are bound to go head over heels in love with it. It has become an inseparable part of the wish list of many automotive enthusiasts out there.
The S Class in its present form is leaps and bounds ahead of the previous models in terms of technology, comfort, drivability and the most important aspect being safety, for which a Mercedes has been an epitome. One tends to get enraptured by looking at the massive chrome finished radiator grille that now comes in a three dimensional shape with four louvers.
The large LEDs remind you of neat intricate gemstones shining bright that accentuate the visual appearance from the front.
source - motorbeam
The skillful lines flowing from the front to the back convey dynamism and athleticism and bring out its subtle character from within.
The tantalizing story continues further with one of the best quality interiors ready to pamper you with all the latest tech gadgets and faultless cabin ergonomics.
source - motorbeam
Owning and driving one truly makes you feel on top of the world with an admiration for the hard work and struggle one goes through the initial phases of his career. It was the same for Kapil Sharma too who is now the proud owner of an S 350 CDI. The car houses a 3 litre V6 diesel motor generating 258 bhp of power and 620nm of torque.
It is capable of doing some serious numbers in terms of performance figures but one would not like to tamper with its understated aura and charm that qualifies it as an elite cruiser.
The 0-100 kmph timing is 6.8 seconds with a top speed of 250 kmph. Reckoning the fact, the S always has a special place in one's heart and the three pointed star comes out on top with its undisputed legacy and prestige.
source - wallpaperes.altervista
With a net worth of Rs 40 Crores riding on him, Kapil Sharma is a force to reckon with in the industry. With the stupendous success coming his way, this is only the beginning for this super talented comedian.