The year 2016 has been one of agony as well as joy for all the automakers in the market. We just cannot wait to find out what all the new year has in store for all the car fanatics.
One thing that we now know for sure and we are very excited about is that Audi India has decided to launch the New A4 in February. The petrol variant of A4 was launched by the German carmaker Audi back in September last year in India with a 148hp churning 1.4-litre turbo-petrol engine. And now it's time for the diesel variant to hit the market, according to a new report, which earlier was expected to be launched in the month of October 2016. The reason for the delay is the need to recalibrate the engine and make it compatible for the lower grade BS IV fuel in the country. Let's find out what the supercar entails for us, shall we?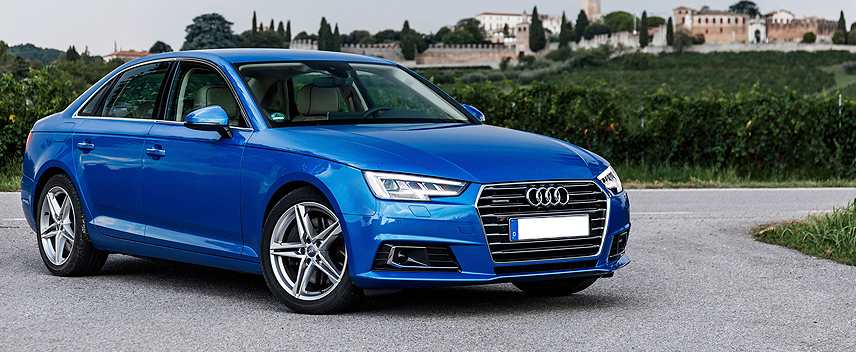 source - Google
The upcoming diesel variant is expected to deliver higher power than the current petrol variant, i.e 190hp through it's new EA288 diesel engine. The engine will be incorporated with an Audi S-Tronic 7-speed double clutch lined-up with a 6-speed manual option that is also expected to be available. The 1.4-litre turbo engine of the current petrol variant of Audi A4 generates power of about 148hp.
source -Google
Also, this diesel version will be front-wheel drive only. It is presently believed that the current diesel engine is made for Euro VI. This compatible fuel is, however, yet not available in India.
source - Audi.com
Just like its petrol sibling, the upcoming diesel variant has interior with new panels and new dashboard. Advanced MMI infotainment system, rear AC vents, dual zone climate control and much more interesting set of features are likely to be seen in this new variant. Also, a large TFT display will be seen in the centre of the vehicle.
It is expected that after its launch, the new Audi A4 will compete against cars such as the Mercedes-Benz C220d and BMW 320d. Sounds like it's going to be one gorgeous machine. What do you think?